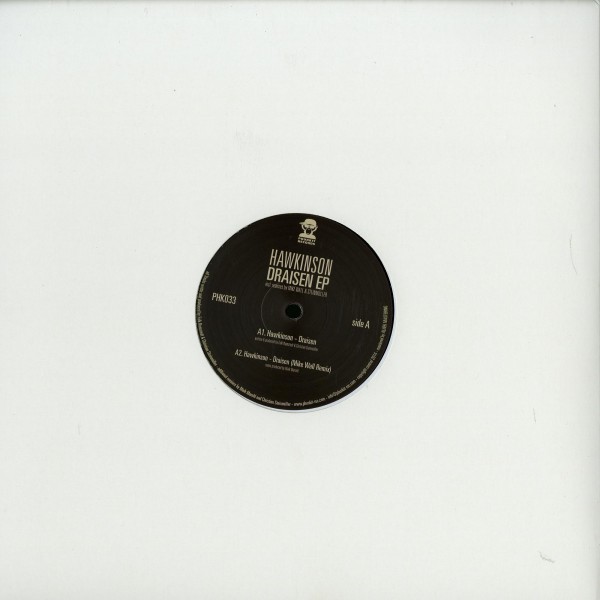 Hawkinson – Draisen EP (incl. Mike Wall & Steinmüller RMX)
Release Date: 2014-09-09
KATALOG: PHK033
Vinyl Release Out: 09.09.2014 (Juno, deejay.de, decks.de, djshop.de, Technique JP)
Digital: 2 weeks later
An easy mission for Mr. Hawkinson on Phunkit: to send you on an analog journey through deep stomping, chordal Techno grounds and burn down your floors! Hawkinson delivers with his Draisen EP two varied, atmospherically dense originals between warm Techno and melancholic Acid charme. While Mike Wall pushes Draisen into even deeper Techno soundscape, Steinmüller's floating yet driven version of Restruct completes the four tracker to a wonderful, spheric and powerful package.
Juno | decks | technique | deejay.de | djshop
DJ SHIVA / SUBTERROR RADIO / GYNOID AUDIO / DIFFERENT IS DIFFERENT / CHROMA
Really groovy set of tunes. Draisen hits that Detroit feel, where the Mike Wall remix strips it down to just the funk and noise. Restruct is a really quirky acid groove that I like quite a lot. Steinmuller throws in some old school tom drum flavor that adds and a nice jack to the groove. This is really a lovely release. 🙂
HEIKE REICH / ZUENDFUNK
good groove…. solid dance tracks…. will try
JOHN SELWAY (CSM) / CSM, INTERPULL
pretty good, will give these a try
BLEED / DE:BUG
considering for review
BENOÎT CARRETIER / TSUGI
not so so for me
LAURENT DIOUF / MCD MAGAZINE / WTM RADIO SHOW
another wtm's playlist is coming soon…;)
ELECTRIC INDIGO
nice mike wall remix!
RADIO CAMPUS BESANCON / THE VINYL GUERILLA
Hawkinson – Restruct (Steinmüller Remix) for me
MARTINEZ / MOON HARBOUR
downloading , thanks
FABIAN BIRKE / WOMR COLLEGE RADIO / BLN.FM
For radio play, thanks.
SLAM / SOMA RECORDS
will spin thanks
JAMIE ANDERSON
Will try out some of these, good release!
THOMAS SCHUMACHER / ELECTRIC BALLROMM/NOIR/PETS
Restruct is my fave!
MARTIN BÖTTCHER / BYTE.FM, DEUTSCHLAND RADIO, TAGESSPIEGEL
good
ANGEL MOLINA ( SONAR / TRESOR )
only into 'Mike Wall Remix', thanks.
KRISTIAN HATTON / CYCLIC DEFROST, HAARP MEDIA
pretty choice
PIG & DAN (COCOON)
mike wall remix is super
ESTROE ( CONNAISSEUR RECORDINGS, MEZZOTINTO )
Will try both versions of Restruct, both of them have interesting sounds!
NOAH PRED / THOUGHTLESS MUSIC
Some cool ideas here, thanks.
DUBFIRE
niceee , thanks!
RICHIE HAWTIN / MINUS, RICHIE HAWTIN
downloaded for r hawtin
DANNY TENAGLIA
Thanks!!!
PATRICK SELZER
"Restruct" for me
DAVE ANGEL / APOLLO, ROTATION RECORDS, POLYDOR/LOVE, OUTERRYTHUM, REACT RECORDS, ISLAND
Downloading for Dave Angel, thanks!
RICHARD 'MERLYN' MARTIN / (SUBDIVISIONS RADIO SHOW – DIGITALLY IMPORTED RADIO)
Draisen original – thx!
LUCIANO ESSE / SAFARI ELECTRONIQUE, OUT-ER, LEFTROOM, MATERIAL SERIES
Steinmuller remix for me! Thanks!
MAETRIK / MACEO PLEX (MOTHERSHIP, DUMB UNIT, CROSSTOWN REBELS, TREIBSTOFF)
downloaded for maceo plex, thanks for the music!
KIKO MARTINEZ / DOCEPULGADAS
Downloading for DocePulgadas. Thanks!
NICK MORROW / CODE GLASGOW
Mike Wall's remix has a nice groove
JOSEPH CAPRIATI (ANALYTICTRAIL,FRANKIE,CMYK,LOOSE,MINIBUS)
Downloaded for Joseph Capriati, feedback to follow, thanks.
GABRIELE GILLERI / DIFFERENTGROOVES.COM
Hawkinson 'Draisen EP' [Phunkit Records] #phk033 #hawkinson #draisenep #phunkitrecords: http://www.differentgrooves.com/?p=36869
TEKNOBRAT / OTTAWA RADIO SHOW / RADIO CARLETON CKCU 93.1 FM
Draisen + Restruct (Steinmüller Remix) are really my picks for this release…. Will Play, Will Support Thanks
Downloading for Riva Starr, will send feedback if it makes into our selection, thx!
SCANMODE / DJ MAG SPAIN
awesome remixes
DJ FELIPE (FLEX VIENNA)
Nice EP
LEONEL CASTILLO
ill Pick Mike Wall Remix, love it
ÂME
thanks
WWW.WNISTUDIO.CO.UK / AYEKO, TURQUOISE BLUE, DEEP & PROD, RUE DE PLAISANCE, SUPPLEMENT FATS, KGBEATS, OFF AND MORE
Will try the Restruct original mix
ZBK / SPAZIO TEMPO
Steinmüller remix for me.
WESTRADIO.GR
very good! thanks
LAURENT N. / ATAVISME, HOUSE NATION RADIO
Nice Ep with 2 good original tracks & remixes. Will play & SUPPORT !
WILL KINSELLA / CEOLTRONIC RADIO SHOW RTE, RTE IRLEANDS, HOT PRESS IRELAND
Mike Wall remix is killer. Sounds good. Will feature on Ceoltronic Radio for RTE Pulse and RTE 2FM. Will play out too. Thanks. Will
MARKANTONIO / ANALYTICTRAIL RECORDS
Downloading for Markantonio…thanks for the music!!!
MIK SANTORO / AMPISPAZI RECORDINGS ( LABEL OWNER ) , AMAZING RECORDS ( MUSIC MANAGER )
Restruct (Steinmüller Remix) is really cool! thanks!
SIGNAL DELUXE (BLAQ RECORDS)
Nice release, Mike's remix is doing the works for us
MAXMAX2
I really like Draisen original. great one
SWEETNCANDY / KIDDAZ / XLR1507
good release with great tunes. like
HORATIO / NATURAL RHYTHM
good ep
NICKELLE
Restruct original and the Mike Wall mix are my favs, nice work.
NADJA LIND / LUCIDFLOW, SOMA, DARKROOM DUBS
remixes are ace. thanks!
FLORIAN BREIDENBACH / TECHNO.WS // DIES UND DAS
liking the raw touch in both remixes
SPIROS KALOUMENOS
Mike Wall remix for me !
MADBEN / ASTROPOLIS RECORDS, BEDROCK, MISSILE 2.0, ELECTRONICAL REEDS…
steinmuller remix for me! Thanks!
JIM LAMB
Supporting!!
DEAS / SECRET ROOM RECORDS/DEEPERFECT/BAROQUE
Mike Wall is interesting !
RON COSTA / POTOBOLO
Mike Wall Remix for me thanks !
MR.JONES / _UNSUBSCRIBE_/THE PUBLIC STAND/MR. JONES
nice groove in "Mike Wall" his mix,.
ROBERT LAMART / AUXILIAR / AUXD1 / 8MF
Mike Wall my fav. Thanks.
SEAN PLACE / INTERMISSION LTD. / CAPITAL TECHNO / PROLOGUE
Restruct and remix are top notch!
JO PSARADOS AKA SINGLE MAN / WHITE LAB LTD, 1605, NEW REPUBLIK
amazing package guys, downloading
DUKES
Wicked.
SUBMERGE / IMPACT MECHANICS, MOTE EVOLVER
Will test
MILAN GETO | THE CLUBBER / WWW.CLUBBER.RS
Originals are great! Thanks!
TOBIA COFFA / AMAM, GREY AREA
great mike wall remix! thanks for the promo.
000 / AMAM, SLEEP IS COMERCIAL
great thank you
CRAIG HOLLYWOOD / RTRFM
To be played on specialised electronic music program Full Frequency on RTRFM 92.1 Perth Western Australia. Show is aired weekdays from 3pm til 5pm (GMT+8)
ALEXANDER FILIMONOV / KISSFM.COM.UA
Thanks, will support
THENOISEGATE MAGAZINE / THE NOISE GATE MAGAZINE
the mike wall remix is marching!! Diegetics @ TNG
DOT
"restruct"steinmuller remix is dope! thanks 🙂
JOCHEN KLING / MIXMAG GERMANY
Bomb!
JOHN MASSEY / SOUND REHAB
Great release all around! Steinmuller rmx is awesome. Thx!
JOE EUROPE / THE RANSOM NOTE | EARS HAVE EYES
Steinmuller mix of Restruct is DOPE
CHRIS LIEBING / CLR
downloading thx