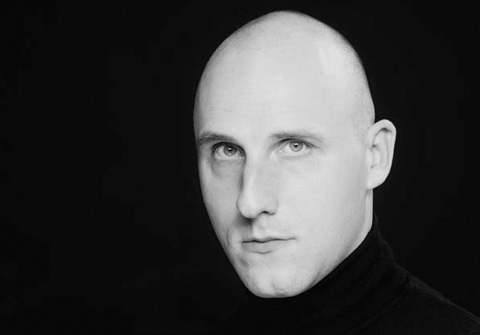 Born and raised in eastern Germany, Hawkinson originally found his inspiration in the record collections of his parents and friends, and in the albums of Kraftwerk, Depeche Mode, New Order and Jean Michel Jarre. A good start. Then came the fall of the Wall and new influences came into play. From The KLF on to Front 242, And One or Nitzer Ebb – all of these influences remain alive today in everything he does.
Then there was radio, especially Steve Mason`s Experience on BFBS, his first weekly contact with the whole electronic music world. And then came all the clubs, especially the ones in Berlin that were springing up like mushrooms back then. There he discovered a completely new world. So it was probably in the Bunker or E-Werk, or maybe the Tresor which would later play a crucial role for him, that he heard a sound for the first time, a sound that grabbed hold of him and wouldn't ever let go: techno.
How on earth could you get that kind of sound out of nothing more than 2 turntables and a mixer? The young Hawkinson hung on the fingers and the turntables of DJs like Jeff Mills or Carl Cox and other greats, fascinated and intoxicated by what he heard and saw. And that's when the thought crossed his mind for the first time: I want to learn how to lay vinyl on the turntable, how to mix, and how to transport people into ecstasy on the dancefloor.
But first there were a few obstacles to overcome. For example the question of equipment. He carried out his first finger tricks as a DJ using a friend's equipment: two belt-driven record players and an old mixer. All in solid East-bloc quality, but unfortunately without any pitch function, which made mixing a lot more difficult. It was only after pocketing his high school diploma that he was able to scratch enough money together to buy his first used rebuilt turntables and decent mixing desk.
During his time at university, first studying transport science, then history and philosophy – with the obligatory part-time job to pay the rent – nothing could stand in the way of Hawkinson's passion for all music, but especially for techno. As soon as he finally got outfitted with the necessary technology, he spent every free minute behind the turntables with the record collection he'd already built up. After all, his dream was always clear.
Success wasn't long in coming. It was actually in a club where most people wait an eternity to lay their first record that Hawkinson went straight in and played his first set: the legendary Tresor in Berlin. This was his final ignition and liftoff, and a defining experience which would be followed by many others. He often played at the Tresor, and also in other reknowned Berlin clubs such as Ostgut, Sage Club, SO 36, Pulp Mansion and many others. Appearances in other German cities soon followed. All the while, one thing become more and more clear to him: he wanted to make music for real. For a living.
So his switch into the music-maker's chair came naturally. At the beginning he had only a voice-recorder for capturing his thoughts. Later on came the computer system which gave him the chance to transfer his ideas into tracks for the first time. And Hawkinson put the exactly same energy and elan into this new daytime work as he had done when he made the leap from his living room to the DJ booth.
Then he met Christian Steinmüller, who produced and published his own music under the name Kris Benton and also under the name Steinmueller. They became close friends, and set off together to produce that unmistakable Hawkinson sound; a sound made for the dance floor, but one that works just well on headphones. This much is certain: whatever Hawkinson produces in the future, in the words of Megan of SPESH: "It`s in my bag!"